Doctor Who returns to our screens after spending a year in the Vortex. Perhaps it's found its pilot?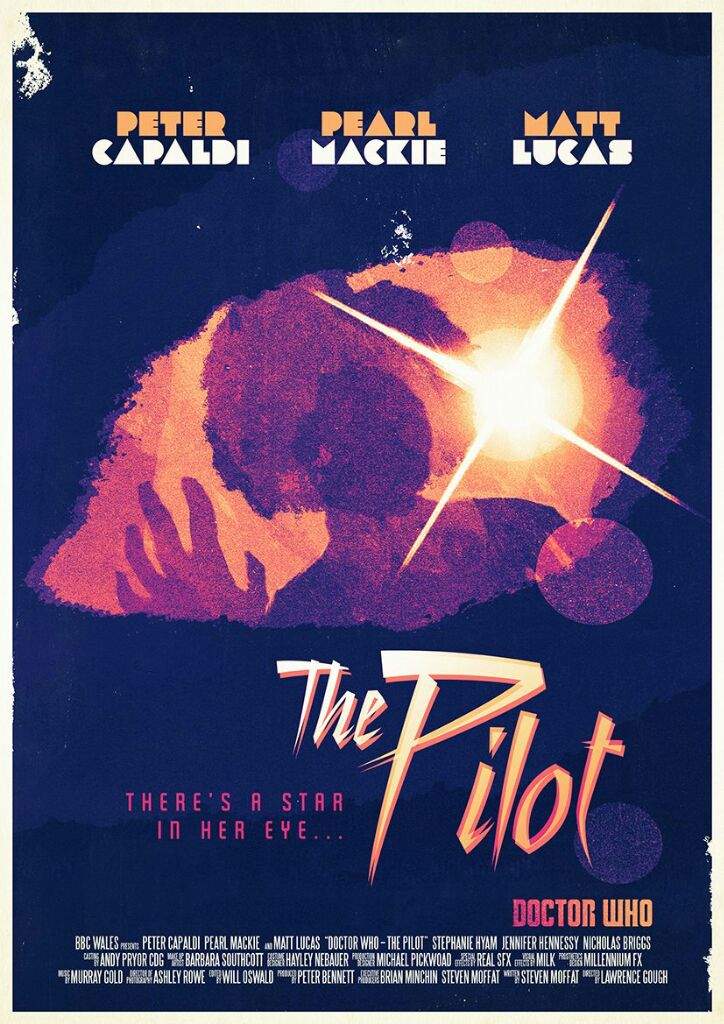 A companion's introductory episode is always quite exciting: what will they be like? How will they react to the Doctor? How will they react to the TARDIS? For newcomers to the show, they will get to experience all these things for the first time through the companion's eyes. For regulars, it offers the chance to share in their excitement, even if the situation has occurred many, many times before. The Pilot does precisely that as it kicks off Season 36/Series 10 of Doctor Who.
Bill Potts is an ordinary girl working in an ordinary university serving ordinary chips to ordinary people – but she also sneaks into distinctly extraordinary lectures taught by an extraordinary professor who makes no distinction between quantum mechanics and poetry, and who has a large blue police box in his office. But when her crush also starts acting extraordinarily (and not the good kind), she's thrust headlong into a world more exciting than anything she's ever imagined.
When Bill Potts was first announced as the new companion roughly a year ago, I was very disheartened. The brief Dalek scene portrayed 'asBill' as a another sassy, quick witted companion with a penchant for underestimating the severity of her situation, much in the vein of Amy and Clara in the later stages of their travels with the Doctor. And after the end of Series 9 completely destroyed any goodwill I had for Clara, the last thing I wanted for a new companion was someone similar to her.
So imagine how utterly relieved I was once I watched The Pilot. Pearl Mackie's Bill is not just a breath of fresh air – she's a huge gust of it. It's hard to put into words just how she differs from Clara, though adjectives like 'non-confrontational' and 'unsure' spring to mind. I think, however, that the best way to describe her is that she's more real - she comes across as an actual person with insecurities, worries and questions. It's quite the testimony to Pearl Mackie's portrayal that  I already feel like Bill's more of a character than Clara ever was after only one episode. Having her need the bathroom after running from the Heather-monster does wonders in making her more real and human to the audience; it shows us that she's just like us. Compare her genuine amazement and wonder as she figures out the TARDIS, culminating in a "Doctor, it's bigger on the inside than it is on the outside!" to the sassy quip made by Victorian Clara: "Smaller on the outside."
I think the only criticism I have of Bill at the moment is the fact that we've seen her romantic side. Four of the five previous companions have had love interests, and it's telling that the best one didn't. And while Bill's love interest appears to only have been around for one episode, I'm hoping that no one else comes along. Companion love interests have been done well (Amy and Rory) or badly (Clara and Danny), and it would be nice to simply drop that angle from the companion altogether and focus on them exploring the universe with the Doctor.
That being said, having Bill's romantic interest become the monster of the week was a nice way of getting her thrust into the Doctor's universe, both physically and emotionally. And while the monster wasn't particularly threatening or even engaging, at least it did something, and it was a suitable menace for Bill, even if its intentions did ultimately turn out to be benign. I'm convinced though, that we haven't seen the last of the Heather-monster, and will not be surprised if it turns up in the finale and ends up taking Bill with her (if the rumours about Bill being a one-series companion are true). It's simply too mysterious to not revisit, especially considering it could follow the TARDIS throughout time and space, catching up with it after only a matter of minutes. That's some seriously powerful sentient space oil!
Unfortunately, the rest of the episode was distinctly mediocre – so much so that at times it struggled to maintain my attention, resulting in me inadvertently noting the number of visual/plot elements that had appeared in previous episodes. It's quite telling that the best part of the episode (aside from Bill) was the unveiling of the TARDIS interior, accompanied by a magnificent arrangement of 'A Mad Man with a Box', seven years after it was first used in Series 5. I must admit though, that I chuckled quite a lot when Nardole and the Doctor celebrated the fact that Bill had finally realised that the TARDIS was bigger on the inside. It was Nardole's best moment in the episode, and it's a shame that he wasn't in more of it. I didn't particularly care for him much in The Husbands of River Song, but I quite liked him in The Return of Doctor Mysterio, and I'm interested to see how his character is explored, considering that he was originally intended as a one-off in a Christmas Special.
I'm also quite interested in the contents of the 'Vault' under the university which the Doctor has seemingly been tasked with guarding. I'm already quite intrigued by it – which is more than can be said for the mind-numbingly stupid hybrid arc from last series. As long as the Vault is better handled than the hybrid (and really, the bar is so low that that's not hard to achieve) then I'll be happy.
There's not really that much else to say about the episode apart from how refreshing Bill is. There were a few easter eggs sprinkled throughout for the more dedicated fans: the photo of the Doctor's granddaughter, Susan; the Movellans returning for the first time since 1979 to fight the daleks; and the Bill-Heather relationship referencing the first Doctor, William (Bill) Hartnell and his wife, Heather. The Pilot was a bog-standard episode of Doctor Who, not particularly special, or (unfortunately) engaging, but it was nonetheless a fantastic introduction for a new companion, who, I hope, will continue to shine alongside Peter Capaldi's fantastic Doctor during his final series.
6/10